LOS ANGELES — On a recent Sunday morning in late November, Tania Yanes opened the curtains in a dimly lit bedroom to see her mother, Blanca Rosa Rivera, bundled up under a yellow wool blanket.
Rivera seemed disoriented as her eyes struggled with the morning light.
"Good morning, Blanquita … how are you this morning?" asked Yanes, as she caressed her mother's forehead. "Good," responded Rivera, in a barely audible whisper.
Most mornings, Rivera needs to be comforted. "I have to remind her who she is and that she's safe," Yanes said.
Rivera, who is 76 years old, was diagnosed with early-onset Alzheimer's disease 13 years ago. She's lost mobility and needs round-the-clock care.
"My mom is 100 percent dependent … we have to do everything for her," said Yanes, 51, who until recently provided most of her mother's care, along with her 48-year-old brother, Mario.
It is increasingly common for adult children to care for elderly parents with Alzheimer's — particularly among Latinos, the fastest growing minority in the United States.
The number of Alzheimer's cases is growing rapidly across the entire U.S. population, and could nearly triple by 2050 to 13.8 million, according to the Alzheimer's Association.
But the increase is particularly striking among Latinos, who as a group are at least 50 percent more likely than non-Hispanic whites to develop the disease, according to a report by the University of Southern California's Edward R. Roybal Institute on Aging and the Latinos Against Alzheimer's network. That's in part because Latinos live longer, on average, than whites and also because they are more likely to suffer from certain chronic conditions that put them at greater risk for Alzheimer's, the report says. Compounding the challenge, the report notes, is the fact that the elderly population is growing three times faster among Latinos.
Assuming no cure is found, the number of Latinos living with Alzheimer's will jump more than eightfold to 3.5 million by 2060, the study predicts.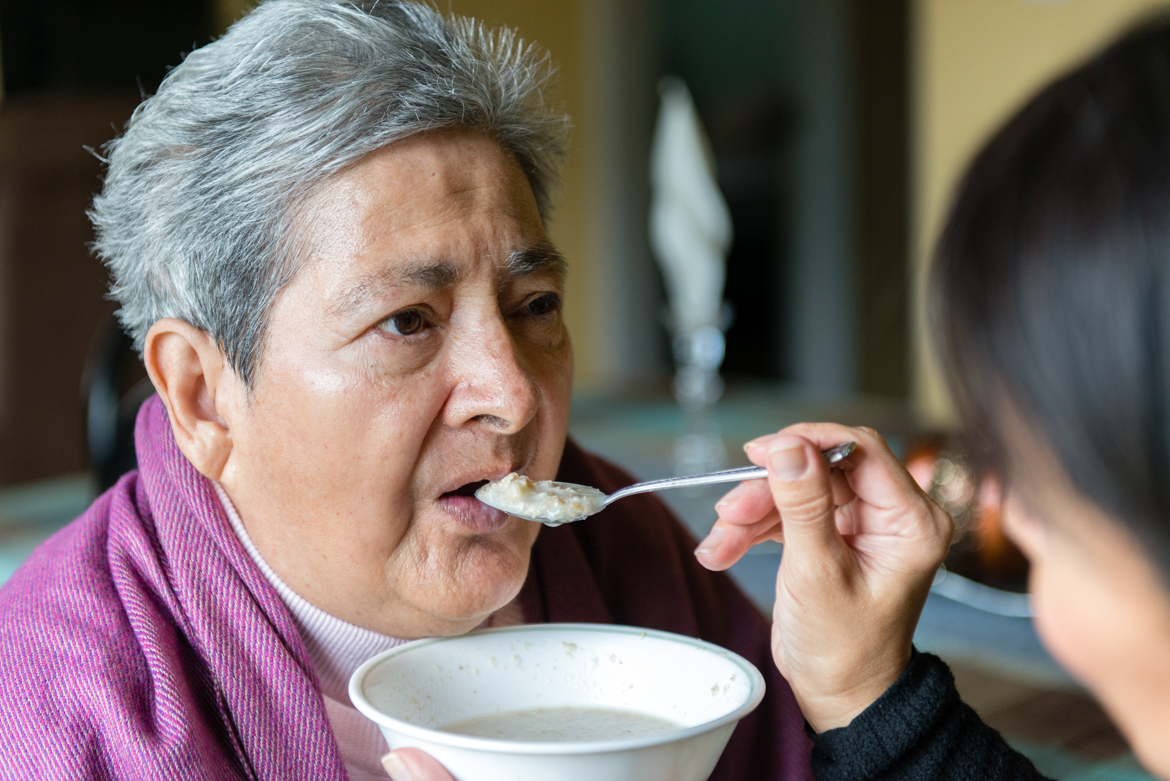 "This is an incoming tsunami," said Dr. William Vega, executive director of the Roybal Institute and one of the report's authors. "If we don't find breakthrough medication, we are going to be facing a terrible financial crisis."
Rivera lives with two of her five children — Yanes and Mario — in a small house in North Hollywood. Yanes brought her mother from Guatemala to live with her in 2002 after receiving an alarming phone call from a relative.
"If she wasn't hungry, which happened frequently, she wouldn't feed my grandmother," said Yanes. "She would forget."
That was one of the first signs of trouble, Yanes said.
After several trips to the doctor, Rivera was diagnosed in 2004 with the degenerative brain disease.
"I didn't know anything about Alzheimer's," Yanes said. "It was really scary."
As in other immigrant communities, many Latinos are either unaware of Alzheimer's symptoms or don't acknowledge them, Vega said. That may help explain a conundrum revealed in the Roybal Institute's report: Even though Latinos are significantly more likely to be afflicted by the disease than non-Hispanic whites, they are also more likely to suffer from missed or delayed diagnoses.
A common cultural aversion to Alzheimer's may be at the root of the problem, said Francisca Reynoso, who coordinates a Spanish-language caregiver support group in Canoga Park for Alzheimer's Greater Los Angeles. She meets with caregivers twice a month to help educate them about the illness.
"In our culture, we don't want to recognize it as a disease," Reynoso said. Family caregivers are "in denial" about it, she said, adding that they often ask her how their loved ones could "become crazy."
Reflecting on her own experience with her mother, Reynoso said, "I didn't know how to recognize the signs because I didn't have enough information about it."
Vega said that part of being better educated about Alzheimer's is recognizing it is not necessarily a natural part of aging. He noted that a healthier lifestyle can help reduce the risk of getting the disease.
Advanced age, family history and genetics are the biggest risk factors for Alzheimer's, and there is nothing anybody can do to change them. But lifestyle-induced conditions that damage the heart or blood vessels — including high blood pressure, stroke, diabetes, high cholesterol and heart disease — can also contribute, according to the Alzheimer's Association.
The Roybal report notes that Latinos, along with African Americans and Native Americans, are more prone to several of these conditions.
Vega estimated that one-third of the Latino population in the U.S. has an elevated risk of developing Alzheimer's because of diabetes, obesity, inflammation and other chronic health problems.
At the same time, Latinos are underrepresented in clinical trials sponsored by the National Institutes of Health: They account for 17 percent of the U.S. population but only 7.5 percent of participants at the 32 NIH-funded Alzheimer's research centers across the country, according to the Roybal report.
"This isn't good," Vega said. "Medications need to be tested on all populations and different ethnic groups, because there is a difference in how they function."
As the number of Latinos diagnosed with Alzheimer's grows, so will the cost of their care.
The Roybal report estimates that the cumulative economic impact of Alzheimer's among Latinos will hit $2.35 trillion by 2060. That figure includes the costs of medical and long-term care, as well as the lost earnings of family members who provide unpaid in-home care, and of the Alzheimer's victims themselves, according to the study.
Latinos with Alzheimer's are more likely to be cared for by a family member, and 63 percent of Latino caregivers are in high-burden situations — providing more than 50 hours of care per week — compared to 51 percent of non-Latino caregivers, according to a study by the Bethesda, Md.-based National Alliance for Caregiving and Minnetonka, Minn.-based Evercare, a division of UnitedHealth Group that coordinates care for people with long-term illnesses.
Until a few years ago, Yanes, who works full-time in a real estate office, would leave her mom in the care of her brother Mario or one of their nephews during the day. Then, when she returned home in the evenings, caring for her mother was a second full-time job. Rivera often kept her up all night, because she was restless and would wander through the house.
It became a big physical and emotional strain, Yanes said, until she decided to hire help.
"The stress I was under was very high," she said. "I learned to sleep in my car during my lunch hour at work because I was so exhausted."
To get some relief, Yanes decided to spend $704 a month for someone else to care for her mother part-time. "It was expensive," she said.
But recently, her mom qualified for assistance — $3,113 a month — from the state's In-Home Supportive Services program, allowing Yanes to hire two outside caregivers. Due to the Social Security Administration's recognition of early-onset Alzheimer's as a medical condition, Rivera now also receives $616 a month in disability income.
But many Latino families are not aware of these benefits, said Constantina Mizis, president of the Chicago-based Latino Alzheimer's and Memory Disorders Alliance.
Yanes credits her local Alzheimer's support group for helping her find the resources to take better care of her mother — and of herself. She has attended workshops and weekend retreats, where she has developed supportive friendships with other caregivers.
These days, her mother hardly speaks and spends her days drifting in and out of sleep. She is confined to a wheel chair and is unable to feed or dress herself.
"You get very depressed taking care of a person with this disease," Yanes said. "Sometimes, I think it's good to go to the group, because when you hear other people's stories, you think to yourself, 'It hasn't been that bad for me.'"