California's Office of the Patient Advocate Friday released its annual report cards on health plans and medical groups — tools meant to help guide consumers and employers as they shop for coverage during the upcoming open enrollment season.
The report cards assign ratings to the 10 largest HMOs and five largest PPOs in the state, based on quality of care and patient experience. It also rates more than 200 physician groups. Quality of care measures include ensuring that heart patients' blood pressure is well managed and that children get their immunizations.
"Health care is complicated, but it's important," said Elizabeth Abbott, director of the OPA. "A lot of consumers are afraid to pick health plans; it's intimidating."
The goal of the agency's report cards, she said, is to make that process less daunting.
For the first time in the 16 years that the OPA has produced the report cards, it is including cost of care information in its medical group ratings. Those figures are based on the average amount that health plans and patients paid each group for care in the past year.
This new feature enables consumers to search and compare medical groups in their county and find the medical group with the best quality and lowest cost.
Being able to make these comparisons helps consumers see that higher costs do not always mean better care, Abbott said.
Kaiser Permanente, both in Southern and Northern California, had the highest quality ratings across the state in the HMO report card. Aetna had the lowest quality rating for HMOs. Most other plans, including Blue Shield and Anthem, received a "good" rating in quality and satisfaction.
However, all plans except Kaiser in Northern California and Western Health Advantage scored a "poor" rating on timely access to care.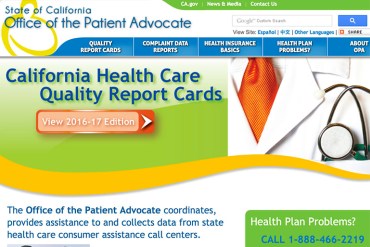 "These ratings illustrate that our commitment to clinical excellence and prevention is paying off — we're keeping people healthier and preventing illnesses and diseases from occurring in the first place," said Janet Liang, president of Kaiser Permanente Northern California.
The 2016-17 report cards also assess which plans and medical groups are most effective in treating certain conditions. According to the report, most California plans perform better than the national average in care for diabetes, mental health and respiratory infections, among other conditions.
Abbott said the ratings can prove most useful to employers who may be in the midst of picking health plans now. Individuals who will be shopping for plans through Covered California when enrollment begins on Nov. 1 may also find value in them, she said.
The quality ratings were not significantly different from last year, in which Kaiser Permanente plans were also the highest rated. The greatest drop in quality was from Aetna Health plan, which went from a "good" standing to "poor."
"Aetna is disappointed that we did not achieve our goals on this year's California HMO report card," said Walt Cherniak, an Aetna spokesman. "We find such surveys to be valuable, as we believe there are always opportunities for quality improvement. Aetna is committed to working more closely with physician groups to promote mutual data sharing, regular scorecard reviews and focused action plans to close quality gaps in care."
Although consumers' main concern is cost, the quality of care data is especially important now that people can shop around for plans as a result of the Affordable Care Act, said Anthony Wright, executive director of the consumer advocacy group Health Access California.
These report cards are also useful for policymakers and state regulators, who may use them to check which plans are doing particularly well or poorly, he said.
"We've seen a lot of mergers in the last year. We've been very clear that if these plans seek to get bigger, it's important to have a clear sense of their track record," Wright said.
Earlier this month, the Department of Managed Health Care released an interactive dashboard offering information on the health plans it regulates. The dashboard allows people to filter through multiple data sets, which include enrollment numbers, premium rate histories, consumer complaints and quality surveys.