Diagnoses of sexually transmitted diseases hit a record high in California last year — with sometimes deadly consequences, according to preliminary state data released this week.
More than 300,000 cases of gonorrhea, chlamydia and syphilis — the most common sexually transmitted bacterial infections — were reported in 2017. That represents a 45 percent increase since 2013 and the highest number since the state started tracking these infections, California Department of Public Health numbers show.
Some of those cases had tragic endings: Thirty of the 278 babies affected by congenital syphilis in 2017 were stillbirths, the highest number in 22 years. Congenital syphilis occurs when syphilis passes from a pregnant woman to her fetus.
California has the second-highest rate of congenital syphilis in the country after Louisiana, according to the most recent national data.
"We're getting a lot of … younger pregnant women infected with syphilis and not getting prenatal care," said Mario Alfaro, regional program director for education at Planned Parenthood Mar Monte in Fresno.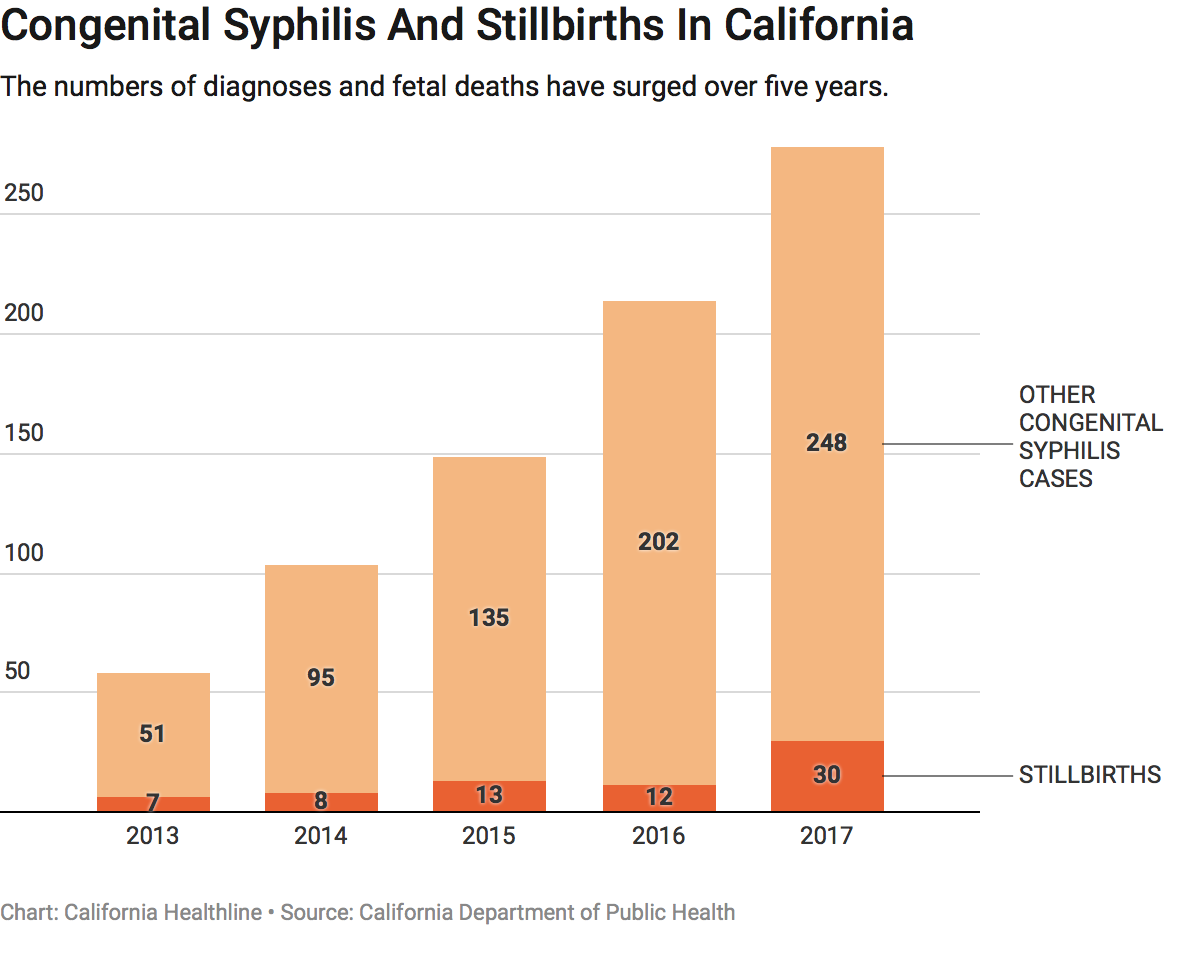 Fresno County accounted for 60 of the state's congenital syphilis cases last year, including seven stillbirths, said Joe Prado, a division manager at the county Department of Public Health.
Fresno County participates in a pilot program run by the U.S. Centers for Disease Control and Prevention (CDC) and the state public health department to address congenital syphilis. Officials say the program has already increased outreach and screening but that the number of diagnoses is still rising.
Newborns with congenital syphilis may suffer from deformed bones, severe anemia, blindness, deafness or other symptoms. According to the CDC, up to 40 percent of babies born to women with untreated syphilis may be stillborn or die from the infection as a newborn.
Alfaro cited lack of access to health care, insurance and education as contributing factors to the rise in congenital syphilis. "All of those things are a deadly combination," he said.
Prado also pointed to a rise in syphilis among methamphetamine users.
"We're just seeing this is a more difficult population to get a hold of, to reach and really be able to get them to consent and agree to treatment," he said.
Chlamydia has increased 9 percent in California since 2016. Chlamydia is more prevalent in women, while gonorrhea, which has increased 16 percent since 2016, is more common in men.
"Half of chlamydia and a third of gonorrhea cases are folks under age 25," said Dr. Heidi Bauer, the state public health department's chief of the Sexually Transmitted Diseases Control Branch.
Her division released this preliminary data this week, a few months before the final numbers become available, because the increases are so dramatic, she said.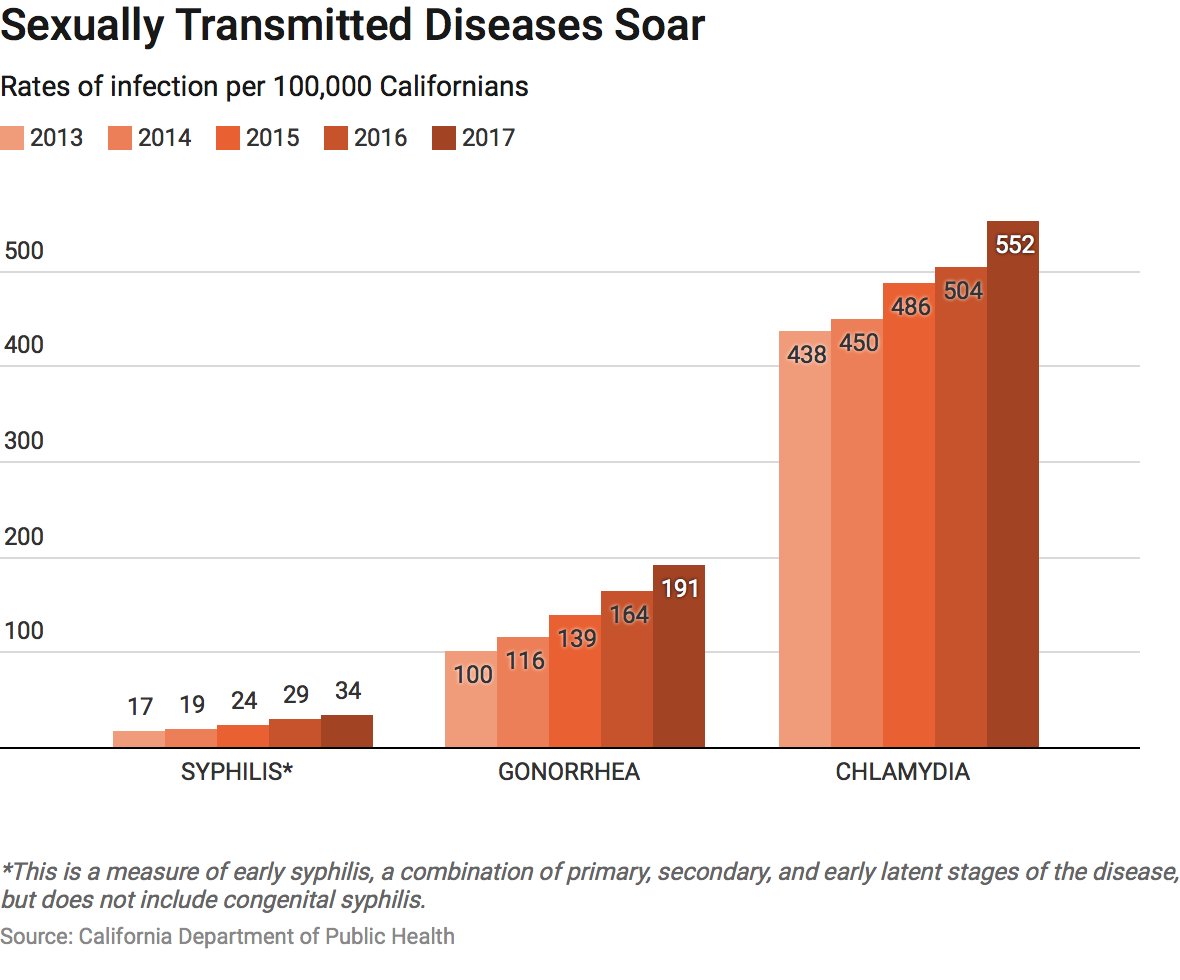 Rates of both chlamydia and gonorrhea are nearly five times higher among blacks than whites. And men who have sex with men also have much higher rates of infection than the general population. Their rates of syphilis are more than 20 times the overall rate, and their rates of gonorrhea are more than 15 times the overall rate.
The state's data did not include HIV, a viral STD. New HIV infections fell in both California and nationwide from 2012 to 2016, in part because of improved treatment and increased use of the HIV-prevention pill known as PrEP.
While there's no one clear reason for the increases of the other STDs, Bauer pointed to "very high rates of folks who are not accessing sexual health services and aren't getting screened frequently."
If left untreated, chlamydia and gonorrhea can lead to infertility, ectopic pregnancy and chronic pelvic pain. Syphilis can cause permanent vision and hearing loss, and other neurological problems.
Once diagnosed, doctors can often cure these sexually transmitted diseases with antibiotics, said Dr. Karen Smith, the state's public health director.
Because these infections often appear without symptoms, San Francisco County wants to make sure the hardest-hit populations have access to regular screenings, said Dr. Susan Philip, a division director at the county Department of Public Health.
"Making sure that there are culturally appropriate and sensitive services … where young people would be willing to seek care becomes really important," she said.