Three days after California businesses began selling marijuana for recreational use, a policy change by the federal government has sparked uncertainty about the future of legalized cannabis and provoked sharp reactions from officials in the state and around the nation.
U.S. Attorney General Jeff Sessions Thursday rescinded an Obama-era policy that discouraged federal prosecutors from cracking down on the sale and consumption of pot. Sessions issued a memo directing prosecutors to enforce federal marijuana laws to "disrupt criminal organizations, tackle the growing drug crisis and thwart violent crime across our country."
The Obama administration's hands-off approach had paved the way for a growing number of states to legalize cannabis use and boosted the multibillion-dollar marijuana industry.
U.S. House Minority Leader Nancy Pelosi (D-Calif.) said in a tweet that Sessions' decision was "shameful" and an insult to the democratic process.
California Lt. Gov. Gavin Newsom tweeted that Sessions had "destructively doubled down on the failed, costly, and racially discriminatory war on drugs, ignoring facts and logic, and trampling on the will of CA voters." Newsom pledged to "pursue all options to protect our reforms and rights."
The attorney general's announcement did not clarify whether prosecutors would pursue federal charges against marijuana businesses or seek to disrupt the rapidly expanding market. Despite the new policy, California planned to continue issuing licenses to businesses that want to sell pot for recreation. The chief of the state's new Bureau of Cannabis Control, Lori Ajax, said she plans to defend California's law and continue efforts to implement regulations both for medicinal and recreational marijuana.
"We expect the federal government to respect the rights of states and the votes of millions of people across America, and if they won't, Congress should act," Ajax said.
Any effort to enforce federal law could undercut California's carefully elaborated marijuana regulations and give rise to an illicit market, warned Josh Drayton, spokesman for the California Cannabis Industry Association, which represents 400 pot-related businesses. "We have worked very hard for the past few years to regulate this industry," he said. "Allowing the federal government to come in … is going to affect the public safety and public health for the constituents of California."
The health effects of the drug and its legalization are widely debated. Advocates say that cannabis can relieve pain, ease chemotherapy-related nausea for cancer patients and stimulate the appetites of AIDS patients — arguments that have helped propel states to allow marijuana for medicinal purposes.
But critics cite a rise in emergency room visits and impaired driving in states where marijuana is legal for recreational use. In addition, marijuana can affect cognitive functioning, and people who use it long term can suffer from an obscure illness that causes extreme abdominal pain and vomiting.
Drayton said businesses "are trying not to get into a panic" about the policy shift announced by Sessions. MedMen, which operates marijuana stores in New York and California, saw a steep increase in business in California this week with the start of recreational sales, according to company spokesman Daniel Yi. He said the "reality on the ground" has not changed with Thursday's federal announcement. "It has created more uncertainty, but it hasn't created certainty that there will be a crackdown."
State and federal laws have conflicted on marijuana for many years. It remains illegal under the federal Controlled Substances Act, despite the fact that many states have substantially decriminalized its use. Eight states and Washington, D.C., have legalized marijuana for recreational purposes, although the District of Columbia continues to ban sales. A total of 29 states have legalized marijuana for medical use.
(Story continues below.)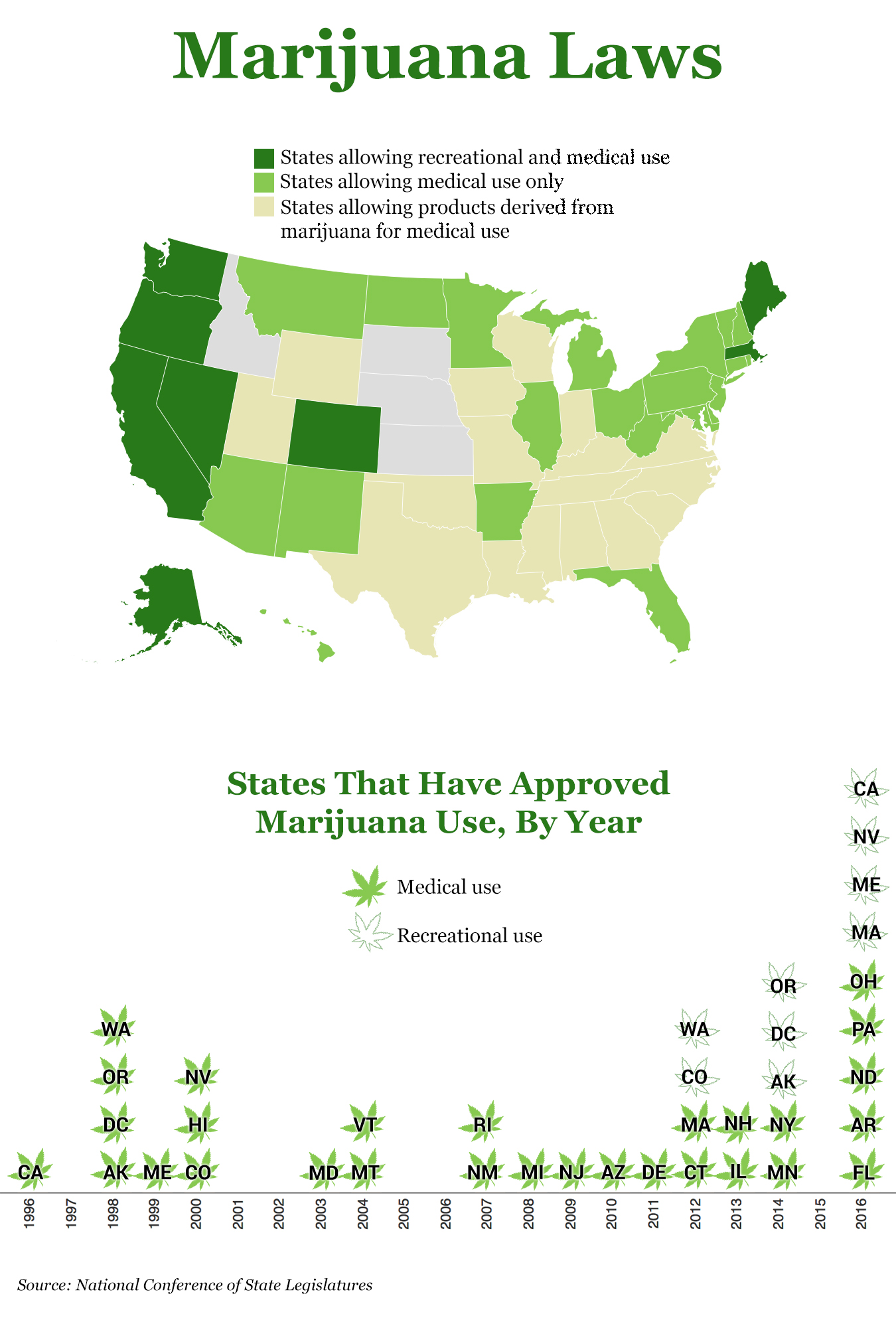 The federal government's shift to a more marijuana-adverse stance is unlikely to have a big impact on states that have legalized marijuana, said Robert Mikos, a law professor at Vanderbilt University and an expert on drug law and federalism. That's because Sessions left it up to the country's individual U.S. attorneys, who must decide whether to go after the marijuana industry. Mikos said many U.S. attorneys will be reluctant to crack down on popular marijuana reforms, especially if they have plans to run for higher office.
They also may hesitate to redirect funds from other key priorities, including the opioid crisis, he said.
Mark A.R. Kleiman, a professor at New York University, agreed that not much would change despite Thursday's policy change. The federal government simply lacks the resources to suppress cannabis production and consumption, said Kleiman, co-author of the book "Marijuana Legalization: What Everyone Needs To Know."
The decision by Sessions did not come as a surprise to legislators and others, since he has been openly critical of marijuana legalization. However, President Donald Trump has said in the past that legalization of marijuana was up to the states. On Thursday, his press secretary, Sarah Huckabee Sanders, said that the Justice Department's move "simply gives prosecutors the tools to take on large-scale distributors and enforce federal law."
Opponents of legalized marijuana said that the federal U-turn could stem the growth of the marijuana industry and curb mass marketing.
"It is a good day for public health," said Kevin Sabet, an assistant professor of psychiatry at the University of Florida. Sabet said the Sessions policy is not aimed at individual users but rather the marijuana industry as a whole.
Governors in several states where marijuana is legal issued statements saying that Sessions' new policy subverted the will of voters and committing themselves to uphold their state laws.
Washington Gov. Jay Inslee, a Democrat, said the state has a well-regulated system that keeps "criminal elements" out. "We will vigorously defend our state's laws against undue infringement," he said.
Oregon Gov. Kate Brown, also a Democrat, said the voters in her state were clear when they decided to legalize marijuana, and the federal government shouldn't stand in their way.
"My staff and state agencies are working to evaluate reports of the Attorney General's decision and will fight to continue Oregon's commitment to a safe and prosperous recreational marijuana market," Brown said.
In Alaska, Gov. Bill Walker, an independent, said in a statement that he was disappointed by Thursday's memo and remained committed to "maintaining our state's sovereign rights to manage our own affairs while protecting federal interests."
"I will continue to work with the U.S. Department of Justice and our congressional delegation to prevent federal overreach into Alaska," he said.
Colorado Gov. John Hickenlooper, a Democrat, said his state has created a comprehensive regulatory and enforcement system that prioritizes public health and safety. "We are expanding efforts to eliminate the black market and keep marijuana out of the hands of minors and criminals," he said. "Today's decision does not alter the strength of our resolve in those areas, nor does it change my constitutional responsibilities."
Marijuana is the most commonly used illicit substance in the United States, and the trend of states bucking its prohibition in favor of taxing and regulating it reflects a broad cultural shift toward greater acceptance. That could make it even harder for the federal government to enforce its laws, Kleiman said.
"Cannabis prohibition is over," he said. "We are where we were with alcohol in 1930."
A Gallup poll from late last year found that 64 percent of Americans believed cannabis should be legal. A February survey by Quinnipiac University found that 71 percent of U.S. voters want the federal government to respect state marijuana laws. In that survey, majorities of Republicans, Democrats, independents and every age group agreed the feds should not enforce prohibition on states that have legalized marijuana.
Carmen Heredia Rodriguez contributed to this story.
This story was produced by Kaiser Health News, an editorially independent program of the Kaiser Family Foundation.