Anthem Inc. and Centene Corp., top players in the growing Medicaid managed care market nationally, run some of the lowest-quality health plans serving California's poor population, according to state data.
The two insurers combined run five of the six lowest-rated plans in the state's Medicaid program, known as Medi-Cal. And until they improve the quality of patient care in some areas of the state, officials have placed both companies under stricter oversight. Together, the plans cover about 3 million people, or roughly 20 percent of the Medi-Cal population.
Anthem must show improvement in nine counties, including San Francisco and Fresno, on items such as routine exams for children, immunizations and controlling patients' blood pressure.
Centene inherited some lower-rated plans when it acquired California-based Health Net last year for $6.3 billion. The company's corrective action plan with the state aims to address shortcomings in prenatal visits, diabetes care and other issues in four counties: Los Angeles, Sacramento, San Diego and San Joaquin.
The state can impose fines or limit new enrollment if the companies don't rectify the problems over time.
Medi-Cal is the nation's largest Medicaid program, with 13.4 million people enrolled, or about 1 in 3 Californians. Nearly 80 percent of them have been moved to managed care plans run by private insurers in a bid to save money compared to the conventional fee-for-service system. Twenty-two health plans participate in Medi-Cal managed care.
The state has issued annual scores since 2013 showing how insurers perform on more than 30 widely used measures of effectiveness in patient care, such as diabetes testing, cancer screenings and pediatric doctor visits. The latest ratings cover treatment in 2015.
"These aggregate scores for each plan in each area let us take a look on where our plans aren't performing well and where we need to intervene on improvements," said Sarah Brooks, deputy director of health care delivery systems at the California Department of Health Care Services, which runs the Medi-Cal program using $100 billion in state and federal money.
Health plans are scored from zero to 100 percent in meeting quality standards. The state said the average score for the 53 plans was only 60 percent.
Just two plans exceeded 90 percent: HMO giant Kaiser Permanente in San Diego (97 percent) and Kaiser's Sacramento plan (96 percent). Anthem's highest-rated plan was in Tulare County at 60 percent but its 11 other regional or county-level health plans all were below average. And two were at or below 40 percent, which the state calls the "minimum performance level."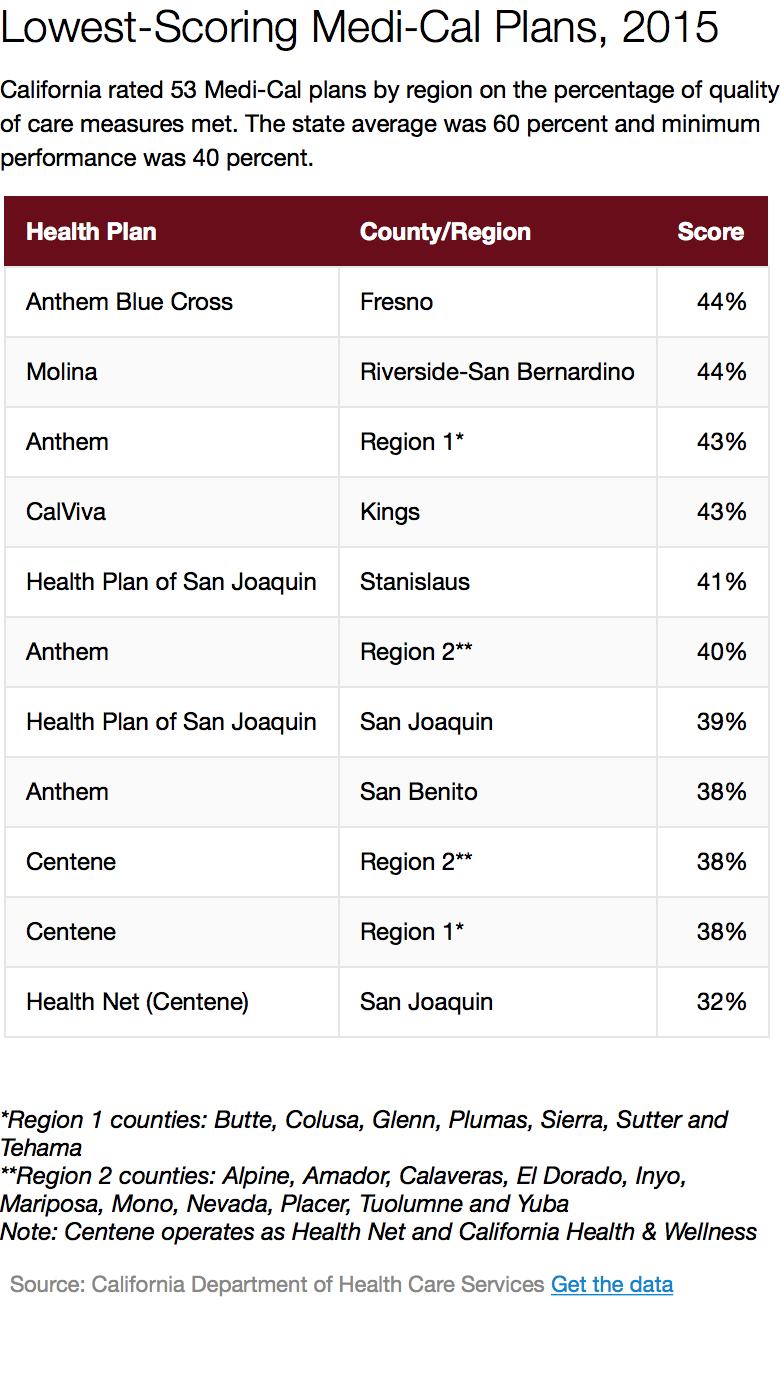 Anthem had several under-performing plans during 2014 as well. The company accounted for five of the eight lowest-rated health plans that year. Anthem in Kings County ranked last, at 34 percent.
In a statement, Anthem said it has taken numerous steps to boost its quality scores, and it has already exceeded the state's benchmarks for improvement for the past three years.
"We expect that our hard work will result in above average quality scores for our members in the next 12 to 24 months," the company said.
Anthem's overall Medicaid enrollment grew 10 percent last year to 6.5 million nationwide, including 1.3 million in California.
Centene, based in St. Louis, operates under different plan names in California, including Health Net and California Health & Wellness. In all, the company had eight health plans that scored below the state average. It also runs the three lowest performers statewide: two Northern and Central California plans at 38 percent and one in San Joaquin at 32 percent, according to the state data.
In its latest earnings report, Centene said it had 6.9 million Medicaid enrollees across the country. Nearly 2 million of those are in California following the Health Net merger.
Brad Kieffer, a spokesman for Centene, said the insurer has "implemented what we believe will be interventions resulting in improved quality scores … We are working closely with DHCS, health care providers and other stakeholders" on corrective actions.
California officials said Anthem and Centene have been spared some discipline over their poor performance in some rural counties where Medi-Cal managed care was introduced in 2013.
"We need to give them time to get up and running" in those rural areas, Brooks said. "Many of those providers had never worked with managed care."
Anthem and Centene are among the largest Medicaid insurers nationwide, according to a Fitch Ratings report last year.
Two other insurers in California are operating under a corrective action plan. Molina Healthcare Inc., another publicly traded insurer that specializes in Medicaid, is under state supervision in Sacramento, Riverside and San Bernardino counties. Health Plan of San Joaquin, which scored 39 percent for 2015, also faces extra state scrutiny.
In a statement, Molina said it has "responded quickly to DHCS' concerns regarding certain quality measures that impact our members." For instance, the Long Beach-based company must improve the quality of postpartum care. In response, Molina said it began sending nurse practitioners to the homes of new mothers.
A spokesman for Health Plan of San Joaquin said efforts are underway to "help our provider network deliver and report on preventive care services and other quality measures."
In 2015, a state audit criticized the Department of Health Care Services for poor oversight of Medi-Cal managed care plans.
The state auditor found that provider directories were riddled with errors and department officials couldn't guarantee that patients had adequate access to doctors. The audit also said thousands of calls to the program's ombudsman went unanswered, frustrating patients who were filing complaints or seeking help.
The Department of Health Care Services said it has added 14 employees to the ombudsman office, upgraded the phone system and instituted new methods to verify provider directories.
Complaints about quality of care represented the largest category of patient grievances from April to June 2016, the latest data available. Forty-three percent of grievances dealt with the quality of care in Medi-Cal.