Need a COVID-19 Nurse? That'll Be $8,000 a Week
A shortage of nurses has turned hospital staffing into a sort of national bidding war, with hospitals willing to pay exorbitant wages to secure the nurses they need. That threatens to shift the supply of nurses toward more affluent areas.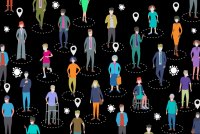 People Proving to Be Weakest Link for Apps Tracking COVID Exposure
Contact tracers in many states are stretched thin. Colorado is among the latest states to launch an app that aims to help, based on the COVID contact-tracing tool built by Apple and Google. But there's a chicken-and-egg problem: More people will use them if they prove to work, but the apps become effective only if more people use them.