Latest California Healthline Stories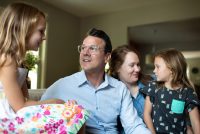 The $109K Heart Attack Bill Is Down To $332. What About Other Surprise Bills?
"I don't feel any consumer should have to go through this," says Drew Calver, who faced a life-changing surprise bill from an Austin hospital after a heart attack last year. After attention as a "Bill of the Month" patient, he paid the hospital $332. But he worries about other patients with surprise bills.