Latest California Healthline Stories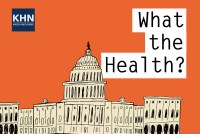 Podcast: 'What The Health?' Repeal And Replace Is Dead. What Now?
In this episode of "What the Health?" Julie Rovner of Kaiser Health News, Alice Ollstein of Talking Points Memo, Margot Sanger-Katz of The New York Times and Paige Winfield Cunningham of The Washington Post discuss what happens now that Republicans have officially failed in their latest effort to overhaul Obamacare. Plus an interview with Bruce Lesley of First Focus about the fate of the Children's Health Insurance Program.