Latest California Healthline Stories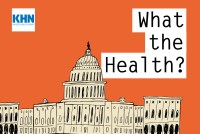 KHN's 'What The Health?': How Do Other Countries Pay For Health Care?
Every country provides and pays for health care differently. Yet surveys show the U.S. health system covers fewer people and costs more than the systems of most other industrialized countries. Are there international systems that the U.S. could emulate or borrow from? On this special episode of KHN's "What the Health?" host Julie Rovner interviews international health experts Gerard Anderson of Johns Hopkins and Christopher Pope of the Manhattan Institute.