Latest California Healthline Stories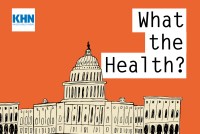 Podcast: KHN's 'What The Health?' What's Next For The VA?
In this episode of KHN's "What the Health?" Julie Rovner of Kaiser Health News, Sarah Kliff of Vox.com, Anna Edney of Bloomberg News and Alice Ollstein of Talking Points Memo discuss the collapse of the nomination of White House physician Ronny Jackson to head the Department of Veterans Affairs. They also discuss new bipartisan congressional efforts to address the opioid epidemic. Plus, for extra credit, the panelists offer their favorite health policy stories of the week.