Latest California Healthline Stories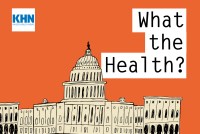 KHN's 'What the Health?': Who Will Run the Biden Health Effort?
The official transition to a Joe Biden administration has finally begun, and he is expected to announce his health care team soon, including a new secretary of Health and Human Services. Meanwhile, as the COVID-19 pandemic worsens in the U.S., officials are preparing for the effort to get Americans vaccinated as soon as vaccines are approved by the FDA. Alice Miranda Ollstein of Politico, Margot Sanger-Katz of The New York Times and Paige Winfield Cunningham of The Washington Post join KHN's Julie Rovner to discuss these issues and more. Also this week, Rovner interviews KHN's Julie Appleby, who wrote the latest KHN-NPR "Bill of the Month" installment.