Latest California Healthline Stories
Daily Edition for Monday, September 28, 2020
Evacuations Ordered Overnight For Multiple Towns, Including Paradise: The North Bay's Wine Country again became a scene of chaos Sunday and early Monday as wildfires burned on the east and west sides of the Napa Valley and blazed toward Santa Rosa, where neighborhoods were engulfed in flames shortly after 1 a.m. In Butte County, the month-old North Complex fire picked up amid dry, powerful winds, prompting evacuation warnings for all of Paradise, Magalia and Concow. All three places were devastated by the November 2018 Camp Fire. Read more from the San Francisco Chronicle, Sacramento Bee, CNN, NBC, SF Gate and Newsweek.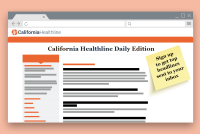 Daily Edition for Wednesday, September 23, 2020
Is A COVID Surge Coming? Two weeks after the Labor Day holiday, health officials worry that the same patterns from Memorial Day and the Fourth of July are emerging. On multiple days last week, L.A. County reported more than 1,000 new cases of the coronavirus, an uptick from the week prior. There isn't yet enough data to draw clear conclusions, but the "troubling trend" echoes what happened earlier this year, said L.A. County Public Health Director Barbara Ferrer.  Read more from the Los Angeles Times.
Daily Edition for Monday, September 21, 2020
Air Quality Worsening Again In Some Regions: Major fires continue to burn through parts of Northern California, including the state's largest ever, the August Complex in Mendocino and Humboldt counties, which had scorched 834,000 acres and continued to grow Sunday. Daniel Swain, a climate expert with UCLA, tweeted on Sunday: "After a few calm weather days, fire activity on the extremely large wildfires still burning throughout California is slowly picking up again. Air quality starting to worsen in some spots as smoke increases." Read more from the San Francisco Chronicle.