Latest California Healthline Stories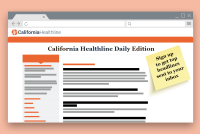 Daily Edition for Wednesday, September 23, 2020
Is A COVID Surge Coming? Two weeks after the Labor Day holiday, health officials worry that the same patterns from Memorial Day and the Fourth of July are emerging. On multiple days last week, L.A. County reported more than 1,000 new cases of the coronavirus, an uptick from the week prior. There isn't yet enough data to draw clear conclusions, but the "troubling trend" echoes what happened earlier this year, said L.A. County Public Health Director Barbara Ferrer.  Read more from the Los Angeles Times.
Daily Edition for Monday, September 21, 2020
Air Quality Worsening Again In Some Regions: Major fires continue to burn through parts of Northern California, including the state's largest ever, the August Complex in Mendocino and Humboldt counties, which had scorched 834,000 acres and continued to grow Sunday. Daniel Swain, a climate expert with UCLA, tweeted on Sunday: "After a few calm weather days, fire activity on the extremely large wildfires still burning throughout California is slowly picking up again. Air quality starting to worsen in some spots as smoke increases." Read more from the San Francisco Chronicle.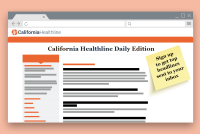 Daily Edition for Thursday, September 17, 2020
Disaster-Relief Teams Forced To Adapt: In Butte County — where the North Complex fire rages and the per capita coronavirus rate is 33% higher than Los Angeles County's — evacuees are being housed in motel rooms. But Butte County is a rural area, and many motel rooms were already in use by people fleeing wildfires in neighboring counties. The coronavirus "has thrown a wrench into the well-oiled machines of congregate sheltering," said Shelby Boston, who heads the Butte County Department of Employment and Social Services. Read more from the Los Angeles Times.
Daily Edition for Friday, September 11, 2020
Residents Choking On 'Unbreathable Air': The unprecedented wreckage left by seemingly endless fires up and down the Golden State is creating horrific air quality, according to residents, forcing them to find options to release stress and exercise. Officials from the South Coast Air Quality Management District have warned that smoke and ash will continue to saturate large swaths of Los Angeles, Orange, Riverside and San Bernardino counties. Read more from the Los Angeles Times.